September 12, 2017 – ColoradoBiz Magazine recently unveiled the winners of the 2017 Top Company Awards at their annual gala on August 30th. We are pleased to announce that RK was selected as the winner of the "Construction + Engineering" category.
Top Company candidates are judged on financial performance, community involvement and outstanding achievement – and the ability to survive disruption and recognize new opportunities that a changing and turbulent world presents. RK is proud to have a strong leadership team, along with a hardworking and dedicated staff that make these accomplishments possible.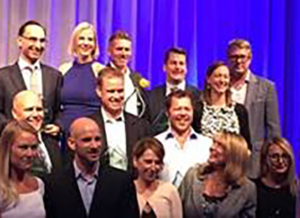 Jon Kinning, RK's COO and Executive VP, top far right, standing with the winners in all categories.