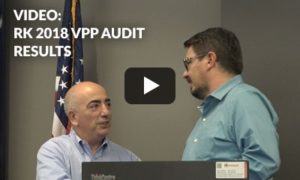 February 14, 2018 – At the beginning of February, six OSHA auditors visited RK interviewing over 50 employees from our shop and management teams as part of the Voluntary Protection Program (VPP) Star Worksite recertification process. Thanks to a complete team effort, RK successfully passed the audit.
VPP promotes worksite-based safety and health. In the VPP, management, labor and OSHA establish cooperative relationships to implement a comprehensive safety and health management system. Approval into VPP is OSHA's official recognition of the outstanding efforts of employers and employees who have achieved top occupational safety and health.
How Does VPP Benefit Employees and Employers?
The average VPP worksite has a Days Away Restricted or Transferred (DART) rate of 52 below the average for its industry, improving worker safety and health.
VPP sites influence safe practices industry-wide meaning fewer injuries and illnesses.
RK is extremely proud to be OSHA VPP Star Worksite as well as OSHA VPP Star Mobile Workforce accredited, ranking us among the 0.03 of American companies with VPP certification at any level.