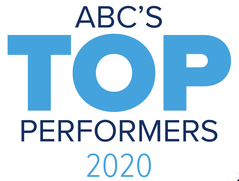 March 10, 2020 – Associated Builders and Contractors (ABC) announced their 2020 Top Performers earlier this week. RK is excited to share that we ranked on the list in three different categories.
Top 200 Performers: RK Mechanical, Inc. ranked #16
Top 20 Plumbing/HVAC Contractors: RK Mechanical ranked #2
Top 30 Electrical Contractors: RK Mechanical (RK Electrical) ranked #5
RK is extremely proud of this accomplishment and want to thank all of our employees for helping us achieve these rankings.
ABC member contractors, that achieved STEP Gold or higher and earned ABC's AQC credential in 2019, were ranked by work hours. View the complete list of top performers here.