October 24, 2019 – RK is excited to announce that one of our projects, Gaylord Rockies Resort and Convention Center (Gaylord Rockies), recently won ENR Mountain State's 2019 Colorado Project of the Year.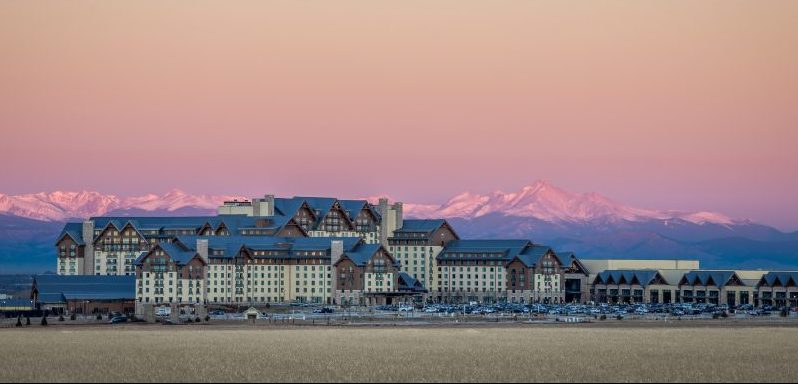 The $800 million Gaylord Rockies, is the newest, and one of the largest, hotel and convention centers on the Colorado Front Range, sitting on 85 acres and rising 15 stories high. It features 1,501 hotel rooms, including 114 suites, 14 of which are presidential suites. The resort includes 486,000 square feet of meeting and convention space, including a 47,573 square foot, column-free ballroom that is adjacent to a 175,000 square foot exhibition space.
In total, the facility contains more than 1.9 million square feet of hotel, retail, recreation, commercial and convention space. There is an indoor/outdoor pool complex with water slides and a lazy river, outdoor basketball and tennis courts, walking trails and golf putting greens. In addition, Gaylord Rockies includes the largest automated laundry facility in the region, a state-of-the-art fitness center, a world-class spa and salon, and eight food and beverage outlets: a steakhouse, an Italian fine-dining spot, an American grill, a sushi bar, a sports bar, a lobby bar, a marketplace, and a coffee shop. Moreover, there is a Grand Lodge, with a 75-foot-tall atrium window, indoor lake with a geyser and a railroad caboose, which serves as the epicenter of the entire complex.
RK Mechanical was hired as the trusted single-source mechanical subcontractor for the entire project, including the hotel and convention center. The scope of work encompassed designing, fabricating and installing all of the mechanical and plumbing systems, including the laundry facility, ten kitchens and all other aspects of the facility. In total, our team installed 75 miles of plumbing pipes, 55 miles of hydronic piping, 2.6 million pounds of sheet metal, 4,000 tons of air conditioning, 3,600 boiler horsepower, 1.7 million cubic feet per minute of air handlers, eight boilers and four chillers, as well as system controls.