At RK Water, we specialize in providing custom water treatment systems to meet the unique needs of our clients. We take care of every part of the fabrication process, from identifying treatment needs to delivering a fully functional operational water treatment system.
Identifying Water Treatment Needs, Goals and Approach
Every custom water treatment project begins with a thorough assessment of site-specific treatment requirements. By understanding our client's needs, we design comprehensive water treatment solutions that align with desired outcomes. This includes considering contaminant levels, flow rates, and water quality standards. Our team will engineer a system that meets or exceeds desired standards to meet environmental regulations. Based on the needs and treatment goals, RK Water will explore the best available technologies, such as reverse osmosis, medias, resins and chemical treatment.
Creating Schematic Design and CAD Fabrication Drawing
With the treatment approach determined, our experienced engineers create a schematic design that serves as a blueprint, outlining the treatment system's layout, equipment arrangement and process flow. Using cutting-edge CAD software, RK Water generates detailed drawings of the fabrication process. These drawings provide precise specifications for each component, including dimensions, materials, connections and assembly instructions.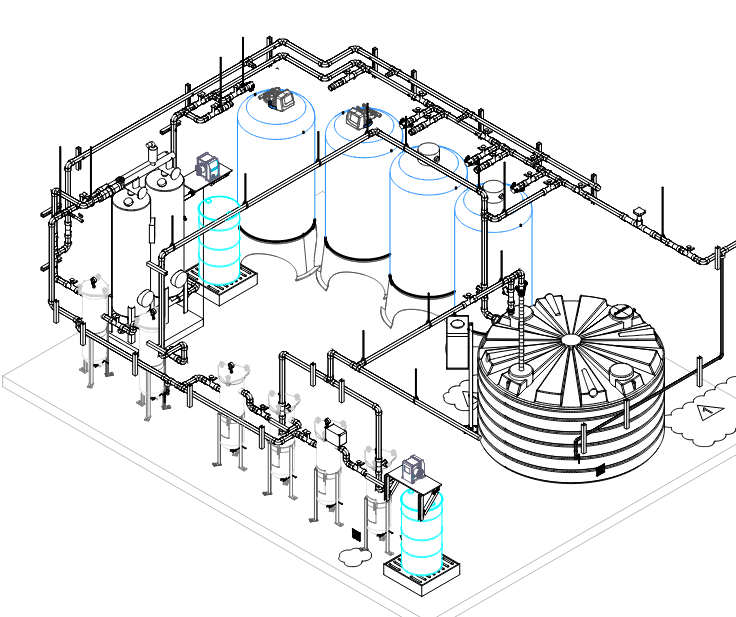 Procurement, Fabrication and Testing
Our in-house team of plumbers and pipefitters will fabricate the designed water treatment systems. By working with other RK business units, we have the in-house capabilities and facilities to ensure every component is installed correctly and according to the design specifications. Once fabrication is complete and signed off, the completed fabricated system is carefully packaged and prepared for shipping to the installation site.
Operational Treatment System
If desired, the RK Waters field team will install the treatment system upon arrival at the site. Before system operation begins, we'll ensure that all components are properly connected and calibrated, guaranteeing a smooth start-up sequence. Furthermore, RK Water offers ongoing operational and maintenance services, including technical assistance, to keep the treatment system operating at peak performance.
At RK Water, we understand that each water treatment project is unique and requires a tailored approach. Our fabrication process ensures that our clients' water treatment goals are effectively and efficiently achieved. If you're looking for a reliable partner in water treatment, count on RK Water to provide comprehensive solutions.
Learn more at rk-water.com.